A word from Curt
Thanksgiving.
It's more than a day.
It's a life habit.
There are many images of thankfulness in my heart.
But the sketch below illustrates one that touched me the most: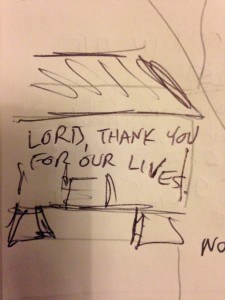 It was scrawled in black spray paint on the side of a partially burned house trailer.
It was east of Pitkin on Hwy 113/10.
Probably fifteen years ago.
It said it all:
Lord, thank you for our lives.
We may have lost a lot, but we escaped with the only thing that mattered.
Each other.
That sign may have been the most eloquent expression of heartfelt gratitude I've ever seen.
I've forgotten hundreds of church signs and poems about Thanksgiving.
But I'll never forget this prayer on the trailer.
May we be thankful for what we have.