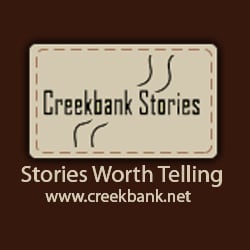 Because our Creekbank books and products are independently published, we rely on the word of mouth of friends and readers like you.
Here are things you can do to spread the word:
Pray for my writing and speaking.  I want to influence and impact the world through the words I write and speak.
Write Amazon reviews on any and all of the twelve Creekbank books you've.  Be honest.  Be concise.
Request your local library to purchase Creekbank books.
Notify local book clubs in your area about reading our novels, The Wayfaring Stranger, A Good Place, and A Spent Bullet. We have special discounts and extras on this.
Help get the word out on the upcoming (June 1, 2017) release of As the Crow Flies.* You can also be part of choosing the cover and early reading/feedback.
Buy pre-order copies of As the Crow Flies.  We'll be sharing more about this in the coming weeks.
Pray that I'll be focused on my life verse (Seek ye first the Kingdom of God/Matt. 6:33) and life statement ("Being a man God can use and being respected by those who know me best.")
My 2017 Keyword is Transparency.  Pray that I'll live and write with integrity and an open heart.
Thanks for being part of The Tribe.
Curt Iles
* As the Crow Flies is the sequel to The Wayfaring Stranger and A Good Place.