"The historian tells what happened.
The novelist tells how it felt."
-E.L. Doctorow
As many of you know, I'm in the midst of writing our fourth novel, As the Crow Flies.
It's the third book in the Westport Trilogy (the first books are The Wayfaring Stranger and A Good Place).
Crow is currently in its third draft weighing in at about 60,000 words. It's set around the story of The Westport Fight of 1881, an event that shaped the culture and settling of our area.
One of the best tools for improving fiction writing is reading good fiction.  Due to our commitment to LLL (Life Long Learning) I've been reading a plethora of novels.  Some are new, many are old favorites I return to year after year.
I'd like to know what novels you read over and over.
What's the best novel you've read in the past year?
Here's the gist on some of the above titles:
The best two new novels I've read are both set in WW II Europe.  All the Light We Cannot See is a stunning story of a German story and blind French girl. It's a novel set in war that is about much more than war.
The Book Thief is a great movie. Until recently, I've never read the novel.  At first I thought, "this is one movie that is better than the book."  As I was captivated by the novel, I changed my mind. It's a must-read for my future re-agains.
I'm listening to Lonesome Dove on audio.  The miniseries is so well-known but the novel stands alone. My favorite scene is when Call whips a Calvary Soldier who fights Newt. Larry McMurtry is a master storyteller.
I've returned to True Grit since first seeing the movie in 1969.  It's amazing that a middle-aged contemporary male writer, Charles Portis, makes Mattie Ross come alive. I recommend the audio book as well as the paperback. As the Crow Flies features a saucy drifter teen named Missouri Cotten who tells her story first person narrative. I've shamelessly studied Mattie Ross and Portis' writing in shaping this character and story.
The Martian is an excellent recent movie, but it cannot touch the humor and suspense of the novel.  Read it!
I've always returned to Hugo's Les Miserables. I've seen all five movies, love the musical. Jean Valjean is a bad man who becomes a better man.
The Hobbit has shaped my life and thinking. When we put our house up for sale in Dry Creek, I announced, "It's like Bilbo leaving the Shire."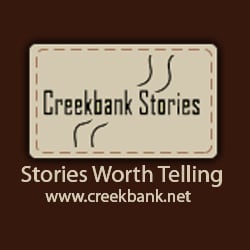 I'm always looking for good reads.
What are you currently reading?
What novel/movie makes the best connection?
Contact Us!
We love to hear from readers at CreekBank Stories!
For Snail Mail, mail to:
Creekbank Stories
PO Box 6060
Alexandria, LA 71307