Herman Clemenson lived 24,500 days after Sgt. Leroy Johnson saved his life on Dec. 15, 1944.
The place was Leyte Island, Philippines.
The story is one for the ages.
24,550 days. That's a long time. 
That's 67 years and over two months.
Close to a lifetime.  And Herman Clemenson,  a North Dakota soldier had this gift of a lifetime thanks to the sacrifice of a fellow soldier from Pineywoods Louisiana.
Yesterday on this blog, we shared a reader's favorite, "A Soldier's Story."
If you missed it, it's a read that'll make you value freedom never has been, nor ever be, free.
After I researched and wrote about Leroy Johnson and the brave act that saved three fellow soldiers at the price of his life, I had one bit of unfinished business.
I dreamed about finding one of the men who had been given life that day in the Philippines. With the years ticking on, I knew the odds were slim. I wrote the 32nd Division Red Arrow Brigade newsletter and inquired about this.
It was an email I'd dreamed of :
"Sir, I'm contacting you because of your research on Medal of Honor winner, Sgt. Leroy Johnson. My father, Herman Clemenson, was with him in Company K on December 15, 1944. In fact, he saved my father's life with his brave act . . . and my father is still alive." 
Jim Clemenson
Washington, D.C.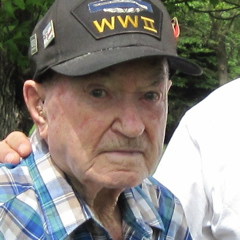 In subsequent conversations, Jim Clemenson shared how his father, Herman Clemenson, still found it hard sharing about the horrors of war in the Pacific.
He was with Leroy Johnson when he performed his heroic act.  The younger Clemenson only discovered his father's involvement years after the war when he showed his father a picture of Leroy Johnson in the 32nd Division's official history book.  "Dad, he was in your company.  Did you know him?"
"Yes. I held him as he died."   That led to the story that Clemenson had been one of the three soldiers with Sgt. Johnson when he covered the grenades with his body.
The next day (Dec. 16, 1944) after this, Clemenson received severe grenade wounds that ended his active service.
I began to plan to visit him in North Dakota with his son's presence and permission.
His son said, "I want to warn you. My father is so deaf that he's difficult to converse with. Secondly, any mention of the war causes great emotional pain and tears."
Jim Clemenson spoke with his father several more times on this and finally told me, "I just don't think he's able to talk about it. You're more than welcome to come up but I'm not sure you'll get any information."
I thought and prayed about it.
As much as I wanted to meet this hero, I had no desire to cause further pain for him.
In 2012, I received this email:
Curt, I thought I should tell you my Dad's battle came to an end in the first part of March 2012.
He struggled with pain every day and nightmares every night since WWII. He was in the VA Hospital here in Fargo and was really struggling to breathe.
After watching this for a couple of days, I finally told him to relax, go see Mom and our sister that had passed.
I also told him his war was over and that he won.
He started to relax and slowly and peacefully went to sleep.
We miss him but it was nice to see him finally at peace.
Thanks again, Jim Clemenson
I was reminded that casualties of war don't always receive medals and some wounds never heal. That makes them no less heroic.
WW II vet Herman Clemenson (center), with his grandson Eric (Operation Iraqi Freedom) and son Jim (Vietnam).
This is the type of family that our American freedom is built rock-solid on.
I was reminded that casualties of war don't always receive medals and some wounds never heal. That makes them no less heroic.
I have an idea: 
Would you make a commitment for the next year?
Until next year's Memorial Day, please thank every veteran you encounter.
When you see a man or woman wearing a Veteran's Cap or shirt, take time to simply thank them. It doesn't matter what war. They deserve our thanks. The reaction from them will move you deeply. Especially the Korean and Vietnam vets who feel so marginalized and forgotten.
If he's wearing a World War II cap, go shake his hand.  Tell him thank you. There are only a few years left where you'll see this cap on a wizened head.
If he's wearing a Korean War cap, thank this person who served in our "Forgotten War." They often feel forgotten and neglected.
If he's a Vietnam Vet, be sure to shake his hand.  Like Jim Clemenson,  he answered our nation's call and served in a difficult place and time.  They no less deserve our salute and respect.
If like Eric, this man or woman is wearing a hat from our Middle Eastern wars, go thank them.  Many of them left family on successive tours of duty.  Thank them.  They'll appreciate it and you'll feel good too.
And don't forget heroes like Leroy Johnson of Oakdale, Louisiana.
One willing to die . . . So others could live.