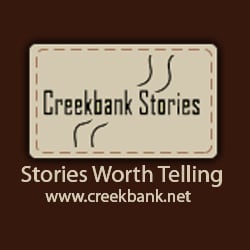 A word from Curt
It's a new year.
Time for looking ahead.
But also time for looking back.
I call the rear view part "our  yearly review."
I'm gleaning from my 2015 journals. There are five of them.
Uncensored and uncropped.
I encourage you to in your own style, record this new year.
Journaling is an opportunity to double one's joy and better understand one's sorrows.
Even after two years in Africa, going into Chad was challenging in new ways.  It was a blessing but stretched us.  I often write my prayers in journals.
Where is your lonely place?
The place where leave the world's distractions and expose your soul to God?
Contact Us!
We love to hear from readers at CreekBank Stories!
For Snail Mail, mail to:
Creekbank Stories
PO Box 6060
Alexandria, LA 71307
c
c